Online Manual
PopMonger Links
Take the bulk out of email! TM

Use your own data


Personal email merge


Send individual email


HTML and/or text


Handy email templates

---
Web-based list management made simple!

Simple subscribe tool


Opt-in confirmed


Track reads and clicks


Custom matching look


Free for up to
5000 contacts
Delete a Task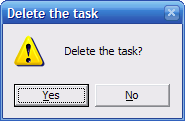 To delete a task, select the task, and click the 'Delete' button. You will be asked to confirm the deletion of the task. This is to prevent accidental deletion.