Online Manual
PopMonger Links
Take the bulk out of email! TM

Use your own data


Personal email merge


Send individual email


HTML and/or text


Handy email templates

---
Web-based list management made simple!

Simple subscribe tool


Opt-in confirmed


Track reads and clicks


Custom matching look


Free for up to
5000 contacts
Task Actions
PopMonger can execute a wide array of actions once it matches a set of rules for your task. The actions for a task determines what that task actually does. All kinds of things are possible, including list management, vacation messages, autoresponders, specialized filtered forwarding, parsing of forms submitted on websites with formmail, survey processing, and more. Some of what you might want to do may require a bit of ingenuity or possibly even some script programming. If you need help setting up a custom task, let us know. We do offer consulting services.

Add Senders Address | Redirect to | Reply with Text | Manage with Subscriber | Mark to Delete | Execute Script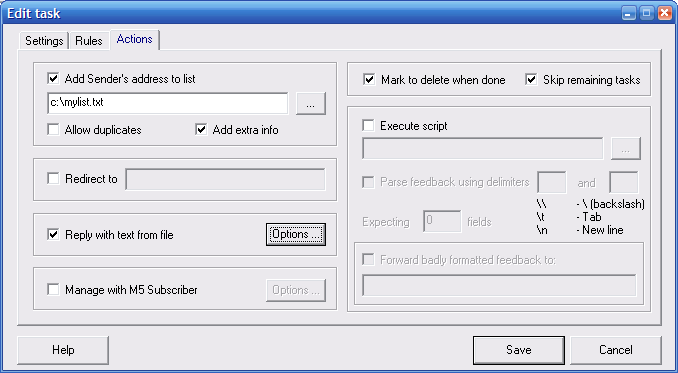 List Management: Add Senders Address To List
Allows you to make sure that the person who sent the message is added to the list you specify. You can add them to a mailing exclusion list if they have sent an unsubscribe request or if the message is a bounce reply. You can add them to a newsletter list if they want to subscribe.
Add Extra Info

Many organizations require time information for when certain list requests were made, for documentation purposes. Normally, PopMonger just adds the email address to the list. If you select Add Extra Info, PopMonger will add the sender email, date, and task name (in that order) separated by tabs to the list.

Allow Duplicates

If you select the Allow Duplicates option, then PopMonger will always add the sender to the end of the list. Otherwise, PopMonger will not add an address to the list if it is already there. If you do not allow duplicates and Add Extra Info is checked, PopMonger will overwrite the entry in the list with new information from this particular task. That way, your list will always have the most up to date information in it.

Message Filtering: Redirect
PopMonger can redirect a message to any other email address or addresses. For multiple addresses, simply separate each address with a comma. PopMonger and Mailer share the same mail sending settings.
Reply With Text From File: AutoResponders and Vacation Messages
PopMonger can also reply to the message with the contents of a text file file you provide. This is useful for subscription confirmation, but you can use it as a general autoresponder as well.
Manage with M5 Subscriber
Mach5 Subscriber is a free service for managing an email subscription list for a newsletter, corporate mailing, or anything you are sending. Enabling this checkbox and clicking 'Options' will allow you to Add or Remove the email address in question.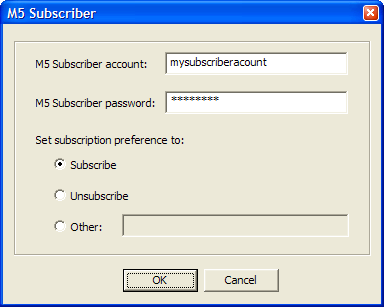 This is the Manage with Subscriber 'Options' window

Enter your:
Subscriber Account Name,
Subscriber Account Password
and choose the action you want to apply.

For more information on using Mach5 Subscriber
for managing your subscription list
visit the M5 Subscriber website.

Mark to Delete and Skip Remaining Tasks
If you instruct PopMonger to mark the message for deletion, then when all tasks are finished, the message will be removed from your mailbox. This step happens last, and if any of the previous steps get an error, PopMonger will not delete the message.
Since there may be many tasks for a mailbox, and since they all happen one after another in sequence for each email in the mailbox, you can tell PopMonger to skip all the remaining tasks for this mailbox as well. Using the "skip remaining" feature, you can build up complex sets of tasks that work together for a common function. The list management wizard can help you create a two-step task to perform confirmed opt-in subscription management by email, for example.
Execute Script (Purchased License or Mailer Gold Required)
Mach5 Mailer Gold and purchased licenses of PopMonger have scripting capabilites with VBScript, JScript, and PHP. PopMonger provides complete context about the message to the script in the form of predefined variables. PopMonger can also automatically parse the inbound message for survey or information replies, and you can use this capability to store information directly into your database. Please see documentation of PopMonger Scripting for more information.