Online Manual
PopMonger Links
Take the bulk out of email! TM

Use your own data


Personal email merge


Send individual email


HTML and/or text


Handy email templates

---
Web-based list management made simple!

Simple subscribe tool


Opt-in confirmed


Track reads and clicks


Custom matching look


Free for up to
5000 contacts
Add a Rule
Clicking the 'Add' button on the 'Rules' tab creates a new Rule and opens up the 'Task Rule' window.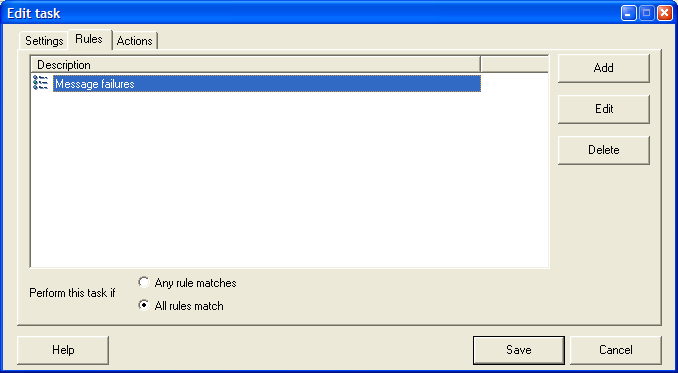 PopMonger contains very flexible message handling and matching capabilities.
All Rules or Any Rules
PopMonger can apply several rules to a task, and you can specify whether all of the rules must match for the actions to apply, or just one.
Always On
If you want your task to always apply, then just leave the task with no rules. A task with no rules will always have its actions applied to the message.
Adding a Rule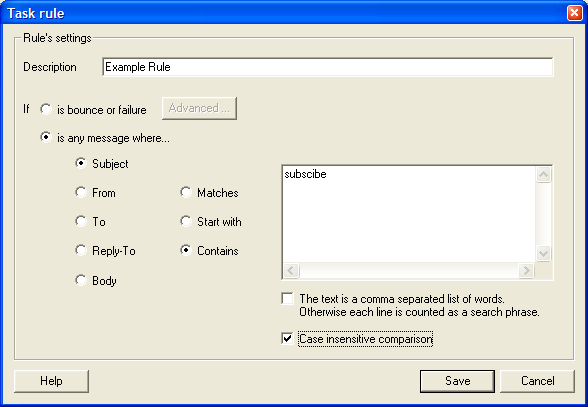 It's helpful to give your rule a meaningful description so that later you can tell what messages the task applies to.
Bounces and Failures
PopMonger does a good job at detecting messages from email bounces and failures. It's not perfect, however, so you may want to review them manually as well. You can have bounces and failures forwarded to a special consolidated mailbox for checking later, for example.

If you should find a bounce or failure that PopMonger routinely fails to match, or if you should find a message that Mailer thinks is a failure or bounce but isn't, please do forward it to us (complete with mail headers if possible) so we can see if we can improve PopMonger's matching.
Content and property matching
You can match email content or headers for any variety of properties, substrings, or content.

You can use either a list of words separated by commas, or for more complex strings, you can put each item on its own line.

Matches can be case sensitive or not, as you require.