Online Manual
PopMonger Links
Take the bulk out of email! TM

Use your own data


Personal email merge


Send individual email


HTML and/or text


Handy email templates

---
Web-based list management made simple!

Simple subscribe tool


Opt-in confirmed


Track reads and clicks


Custom matching look


Free for up to
5000 contacts
Add a Mailbox
Clicking the 'Add' button on the 'Mailboxes' tab creates a new Mailbox and opens up the 'Mailbox settings' window.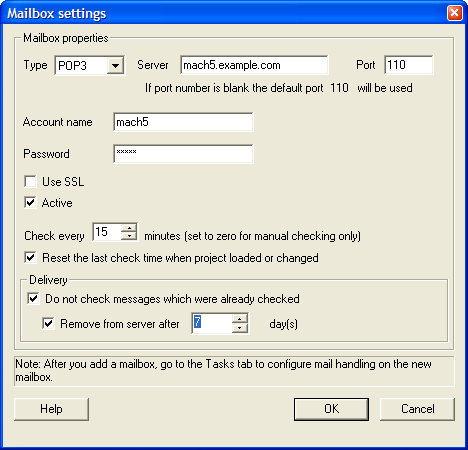 Mailbox Type
PopMonger supports POP3, IMAP, and MAPI mailboxes. To set up a mailbox, select the type of mailbox you need, enter in the server address or IP address of your mailserver (or LAN for MAPI), and enter your account name and password.


Server
The address or IP of your email server. If you don't know your email server address and account information, please visit the support pages of your Internet Service Provider. The servername and username are the same you would use if you were configuring Microsoft Outlook, Outlook Express, Apple Mail, Mozilla Thunderbird, & Eudora.


Port
If your mailserver provides service on a non-standard port, you can manually specify the port number. 110 is the default POP port. 995 is the default POP port with SSL/TLS encryption. If left blank, PopMonger3 will use the applicable standard port.


Passwords
Please note that the password is stored in the settings file if you save your settings. You should not store the settings in a publicly accessible location with your password in it.


Use SSL
SSL Encyption, also known as TLS Encryption, provides a secure connection between your computer and your email server. Email is traditionally sent as Plain Text across the internet. This applies to your email password as well... Checking this option will cause PopMonger to attempt to create a secure connection between you and your email server. Your ISP's mail server must support SSL/TLS encrypted connections for this to work.


Active
You can turn on or off a mailbox without having to remove it from the list. This is the same as Right-clicking on a mailbox within the main 'Mailboxes' tab and selecting "Enable' or 'Disable'.


Check Period
You can also specify how frequently you want PopMonger to check each mailbox. If you want to check only manually, just make this number very large, and make sure the reset on load box is checked.


Reset on Load
If you want PopMonger to reset the last check time every time you load the project, check this box. This will make sure that PopMonger doesn't immediately start processing your inbox when you open the program.


Delivery - Do not check messages which were already checked
This setting prevent PopMonger from running any tasks and actions more than once on each email.


Delivery - Remove from the server after X day(s)
Choose whether you want the email to remain in the mailbox until removed by your service provider, or whether you would like Popmonger to remove the messages. This setting is particularly useful if you are using a dedicated mailbox for newsletter subscribe/unsubscribe requests. You will no longer run the risk of overflowing your mail storage limits without manually removing the mail with a separate email client.

After you add a new mailbox, PopMonger will attempt to log into the account and check that the settings are correct. If there is an error, check the error log to see what went wrong. Most errors happen because PopMonger can't reach the server you entered, or because you mistyped your authentication information.


After Adding a Mailbox, you now need to create a Task to run on that Mailbox.