Tour Analyzer 4
From the Regular license, with comprehensive stats at a low price, including geolocation by country and most especially the exclusive HyperLink TreeView™ ...
... to the Gold license for a truly in-depth analysis of your site, complete with HTML report exporting, site "stickiness" tools, Scenario and A/B analysis.
The Free license includes basic, useful stats limited to analyzing about 200 visitors at once.
See for yourself!
Click any item below: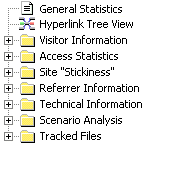 Featuring HyperLink TreeView™